| | |
| --- | --- |
| Brand New Swimsuit Filling (Topless Scene) | |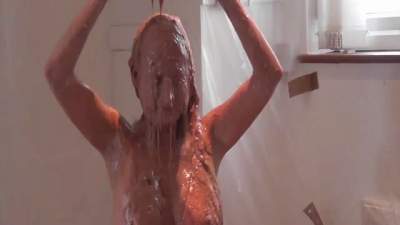 Starring the following model:
| | |
| --- | --- |
| File count: | 1 |
| Total size: | 150.92 MB |
| Total runtime: | 14 mins, 40 secs |
| Date added: | 6/18/17 |
| Views: | 1530 |
| Scene ID: | 23145 |

$19.99




Report
I have a brand new black swimsuit with a high neck. My challenge is to fill it as much as possible and try not too let any escape!

This was a lot of fun and I really enjoyed myself!

I start with some cold rice pudding which I pour straight into the swimsuit. I squeeze it down the swimsuit to make sure there's room for the rest!

I then get some very cold cherry yoghurt. It is so cold that I shudder but then laugh because it's so much fun! I have another yoghurt lined up next but it was a challenge for me because it was honey and banana flavour! As I say in the video, I was really pushing the parameters of comfort! But I did it and laughed about it.

Next was some cold trifle, straight from the fridge… It was very cold indeed! I scooped it out of it's container and shoved it inside the swimsuit with the rest of the stuff.

The next thing was marshmallow fluff, a very sticky substance indeed! Once again, I had to scoop it out and force it down inside the swimsuit.

Then I get a bowl of porridge, pour it inside followed by some jam! Next up was strawberry whip and after that my swimsuit is so full! I didn't think I could possibly fit more in! But I do! I pour in a bowl of custard and really enjoy all the mess inside my swimsuit!

Next is a large bowl of runny chocolate that once poured inside my swimsuit manages to push everything else down and I squeal as it reaches the crotch area! It's hilarious! It all starts to pour out of the leg holes!

I have used all the mess up now (or so I think!) so I play about in all the mess on the floor, rolling around in it and getting more messy! I grab a bowl with some custard left in it and pour it over my face as I am lay down.

I scoop up some of the mess and fill a bowl and pour it over my head so I am totally covered. I take down my swimsuit to my waist and scoop up some more mess to put into some bowls. I pour one bowl over my head before turning around to pour the other bowl of slops over my head and down my back.

Sadly, I didn't realize that I missed a bowl of green gunge… But I am sure it dot used later on that day!
More scenes
Tell others about this scene:
* Promo refers only to
1 and Only Messy Jessie UMD Store
's download scenes. The lowest-priced item(s) in your cart from this producer will be made free once you have the required number of items in your cart.