| | |
| --- | --- |
| Vintage Copy Cat Food Fight with Davina | |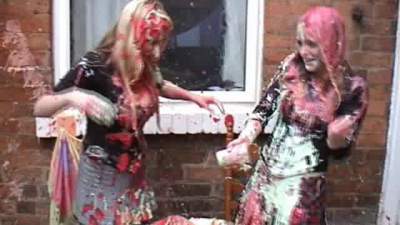 Starring these models:
| | |
| --- | --- |
| File count: | 1 |
| Total size: | 59.66 MB |
| Total runtime: | 5 mins, 43 secs |
| Date added: | 10/03/17 |
| Views: | 890 |
| Scene ID: | 24715 |

$19.99 55% off!

$9.00




Report
This scene is set outside. Davina and I are about to have some lunch. We walk on from opposite directions and are surprised to see each other in very similar outfits! Davina and I are both wearing black tops with short tartan skirts. Davina has on black tights with black shoes and I am wearing black stockings and black shoes.

We are less than happy to see we are almost matching. We both accuse the other of copying and I accuse her of stealing my clothes.

We sit down and simultaneously pull out yoghurts. Once again, we are not impressed. Then we both pick up green smoothies. We throw a few insults at each other until Davina accidentally on purpose spills some of her yoghurt on me! I am very annoyed and so I flick some of my yoghurt onto her.

Davina sills more of her yoghurt onto me so I pick up my green smoothie and pour it over her head! Davina does the same back to me, pouring her green smoothie over my clothes. So I take more drastic action.

I get a pie, put it onto the table then push her face into it. I am feeling quite pleased with myself until Davina copies me again! She gets a pie and pushes my face into it!

I throw some lumpy red goo at Davina, it goes on her face and in her hair. Davina then picks ups a bowl of custard and throws it at me before tipping it over my head.

I retaliate by pouring a bowl of pink slime over Davina's head, but she just throws more red goo at me.

I up my game by pouring cold rice pudding down her top. But guess what? Davina does exactly the same to me! At this point, we just start laughing and flinging whatever we can at each other. Our outfits are all messy and our hair is covered in all sorts. Davina rubs a bit of pie into my face but I just laugh and throw more leftovers at her.

At least we ended up laughing about it!
More scenes
Tell others about this scene:
* Promo refers only to
1 and Only Messy Jessie UMD Store
's download scenes. The lowest-priced item(s) in your cart from this producer will be made free once you have the required number of items in your cart.