| | |
| --- | --- |
| Gunge, Custard, Chocolate and More (Nude Scene) | |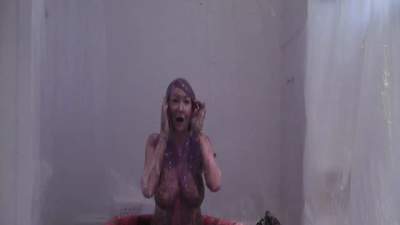 Starring the following model:
| | |
| --- | --- |
| File count: | 1 |
| Total size: | 118 MB |
| Total runtime: | 18 mins, 3 secs |
| Date added: | 7/25/17 |
| Views: | 1855 |
| Scene ID: | 23659 |

$19.99




Report
This scene was made after a model cancelled. I had prepared everything, the mess, the plastic sheets etc. So I only had one choice… To get myself messy!

I am wearing a white shirt, black skirt and black tights.

The mess lined up is green, blue and purple gunge, custard, chocolate, Angel delight and porridge!

I start by getting the white shirt nice and messy. I dip my hands into the chocolate and place them on my chest, leaving handprints on my breasts! But it's hardly messy, so I rub in more chocolate. I then get the pink Angel Delight and pour it onto the sleeves and down the front of the shirt. I turn around to pour more down my hair and my back.

Still with my back to the camera, I pour some custard down my hair and back.

I turn back to face the camera and happily pour a bowl of green slime over my head and face. My shirt is very messy by now, so I take off the shirt and the skirt so I can do some tight filling.

I get some more custard and pour it into the front of my tights and then the back. The custard oozes through the mesh.

Next I pour some porridge into the front and back of my tights, making sure they are nice and full before taking them off.

I squeeze the contents of the tights onto myself.

I take off my bra and get the thick, pink Angel Delight. I smear it onto my breasts. It's very cold!

I splat the rest on myself as it's nice and thick and won't pour.

I get the bowl of blue slime and remove my thong. I pour the slime over my head, down my face and body. Then I scoop up some slops that are in the pool and pour it over myself.

Next is the bowl of chocolate which I pour over my breasts. Followed by the bowl of purple slime over my head, face and all down my body.

I play in the mess and show off the soles of my feet. Then I get the bowl of porridge and enjoy as I pour it over my head. It feels lovely as it coats my face and body.

I have used up all the mess, but it's all collected into the pool and it feels amazing, so I fill up some bowls with the slops and pour them over my head. I rub it all in and make the most of it before it gets cold. The model cancelling turned out to not be too bad after all!
More scenes
Tell others about this scene:
* Promo refers only to
1 and Only Messy Jessie UMD Store
's download scenes. The lowest-priced item(s) in your cart from this producer will be made free once you have the required number of items in your cart.