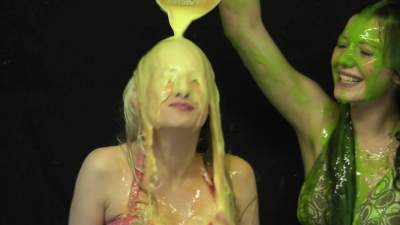 Starring these models:
| | |
| --- | --- |
| File count: | 1 |
| Total size: | 451.83 MB |
| Total runtime: | 15 mins, 4 secs |
| Date added: | 6/25/17 |
| Views: | 1576 |
| Scene ID: | 23226 |

$19.99




Report
In this scene I play a game with the beautiful brunette, Nadia.

The game is to pick up cards that are face down on a table, one by one. If there is a blue strip on the card, we are safe but if there is a red strip, it means a gunging!

However, if I or Nadia pick a blue card, we can gunge the other. There is a lot of very colourful slime, purple, yellow, bright green, orange and pink.

We both start off with getting red cards, so we gunge each other! I get Nadia with purple slime all over her long dark hair and pretty face. Then Nadia gunges me with thick yellow slime over my hair, face and cleavage!

Things are pretty even to start with, but I soon enter a string of bad luck and get several jugs of slime over my head to Nadia's delight.

But her joy is short lived as she then gets a red card so I get to pour gunge over her again!

However, as soon as I think my luck has changed, I get another string of red cards and lots more gunge! As I am complaining about how much gunge I am getting, Nadia says at least I am getting warm gunge over me and not cold…so I pick up a bucket of gunge and pour it over her head!

When we have only two cards left on the table, we ran out of gunge! But as we both pick up reds, we scoop up the slops from the floor into jugs and chuck the slime at each other!