| | |
| --- | --- |
| Messy Roger Tickle/Gunge Humiliation | |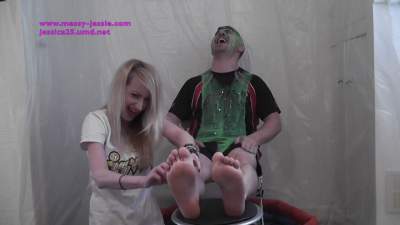 Starring these models:
| | |
| --- | --- |
| File count: | 1 |
| Total size: | 723.25 MB |
| Total runtime: | 21 mins, 40 secs |
| Date added: | 6/16/17 |
| Reviews: | 1 |
| Views: | 2645 |
| Scene ID: | 23127 |

$29.99




Report
After I humilated the idiot Gimpanzee James a lot of guys asked me to replicate this but with a hot model.

After looking for a decent male model I remembered my school friend Roger modelled and liked wearing sportswear.

He's a great laugh but I didn't think he'd ever allow himself to be humilated and decimated with gunge by me.

He's quite manly,and plays rugby etc-also rumour has it he once tied me to a chair when I was 21 and towed me around Worcester from bar to bar!

Hmmm...well Karma came back to haunt Roger on this day as he got transformed into gay icon Messy Roger!

The rules are simple!

Roger,wearing the rugby shirt he actually plays in,shorts and nice trainers is sat down and if he can't stand having his feet tickled and has to get me to stop then he gets gunged!

I remove his trainers,then his socks-and his socks wiffed a bit! ha!ha!

so his big bare feet were left exposed and suddenly he didn't look so tough!

I was amazed when I started tickling just how ticklish he was and it didn't take long for him to shout stop!

He has never been gunged so it was brilliant to hear his reaction as I gave him the Messy Supples Thick Gunge!

So it went on with me gungeing him with neon green,yellow,dark green gunges and then pink gunge and porridge mixed together.

I actually gunged his feet too although he found that a relief to ease his tickled toes!

I actually couldn't resist sneaking into the kitchen and grabbing a custard pie when he couldn't see and came back and planted it in his face!

After filming as a bonus Mike interviews Roger about his first-ever Messy experience whilst he showers (Roger showers not Mike as the camera would be fucked-ha!ha!)

it was brilliant and actually Roger really enjoyed getting gunged.

So much so in fact he agreed to return to take a messy quiz for the chance of winning a Lions Rugby shirt!

That film will be out next week!

Hope you love Messy Roger as much as I do!

Love Jessie xx
Includes the following file:
messy-roger-tickle-gunge-humilation-copy.mp4

1280x720

4,665 Kbps

723.25 MB

21.7 minutes
More scenes
15 min

14 min

10 min

28 min

2 files

6 min

6 min

9 min

9 min

35 min

11 min

10 min

1 min

1 min
Tell others about this scene:
* Promo refers only to
1 and Only Messy Jessie UMD Store
's download scenes. The lowest-priced item(s) in your cart from this producer will be made free once you have the required number of items in your cart.