| | |
| --- | --- |
| Vintage Mr K's Custard Pie Cafe with Davina | |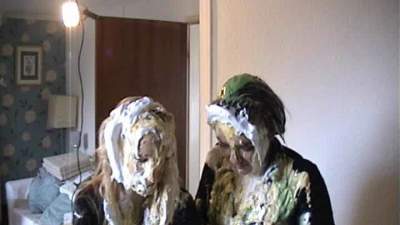 Starring these models:
| | |
| --- | --- |
| File count: | 1 |
| Total size: | 77.59 MB |
| Total runtime: | 9 mins, 26 secs |
| Date added: | 10/03/17 |
| Views: | 786 |
| Scene ID: | 24716 |

$19.99 55% off!

$9.00




Report
Davina and I are staff at Mr K's custard pie cafe famous for it's amazing custard pies!

Davina and I are sat at a table, both wearing black, with our hair tied up. We are on a break but Mr K has asked Davina to look after some pies that are laid out on the table. Davina explains that we will be given a bonus if we make sure the pies are untouched by the time he gets back. She is also stirring a large bowl of green goo. I ask her what it is and she explains that it's her amazing home-made apple pie filling. I try a bit but I am not impressed and say that it's bland. Obviously Davina is not happy about my negative comment.

I let my hair down and light a cigarette. I tell Davina that I have a date that night and I am going straight after work. Davina is more concerned about her pie filling and I tell her that it's nowhere near as good as Mr K's custard pies. When we are hired to work at the cafe Mr K makes us try a pie so we know how great they are. It transpires that Davina didn't even try hers and secretly threw it away! I am shocked but say that it's useful information. But then I say I won't tell Mr K as it was my fault a tray of pies fell on Davina previously. However, I do try to encourage Davina to try a pie.

Davina is very reluctant. I get impatient and end up shoving a pie in her face! Davina is very shocked, but I just laugh. She quickly picks up a pie and throws it at my face!

We pie each other in the face several more times, getting messier and messier. Our faces covered, our hair ruined and our outfits destroyed.

Davina then starts to throw the green gooey apple pie filling at me, so I do the same. She then picks up the bowl and pours it all down my front. I pie her in the face twice followed by pouring the green goo over her head.

I pie Davina in the face again, but she puts a pie onto my chair and forces me down onto it. Davina laughs and pies me in the face again. I pie her but she continues to laugh.

I pick up a pie but before I can get her, she shoves it into my face! There is only one pie left so I pie Davina in the face one last time.

We both laugh for a while before we realize that we must clean up the mess, however, my ride arrives just in the nick of time and I leave Davina to clean up!
More scenes
Tell others about this scene:
* Promo refers only to
1 and Only Messy Jessie UMD Store
's download scenes. The lowest-priced item(s) in your cart from this producer will be made free once you have the required number of items in your cart.