| | |
| --- | --- |
| New Film Tiswas Talented Messy Toes,Cuffs and Pies | |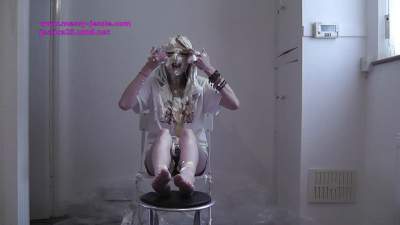 Starring the following model:
| | |
| --- | --- |
| File count: | 1 |
| Total size: | 777.13 MB |
| Total runtime: | 13 mins, 1 sec |
| Date added: | 7/21/17 |
| Views: | 2492 |
| Scene ID: | 23609 |

$19.99 55% off!

$9.00




Report
Wow!

This custom was a tribute to the legendary UK Saturday morning TV show called tiswas (This is Saturday Watch and Smile) but it has given the Messy Jessie treatment with massive custard pies,sexy stockings,painted toes,bare feet,handcuffed hands and feet all added!

One week they had a girl on the show and her special talent was to 'click' her toes.

She sat with her bare feet up on the desk and Chris Tarrant the presenter said 'What extraordinary toes' as she made them click.

Bizarrely I have the same 'talent' and having dsiscussed Tiswas with our customer it was decided this feature needed to be acting out by me but with some improvements to make this a really hot scene!

So in our tribute I'm actually working on a model shoot in the studio next door to atv's studio 3 and it's taken an hour to make my long blonde hair look it's best and it's been nicely styled by the hairdresser.

I'm dressed in 1979 style clothes with a Tiswas T-shirt,little denim shorts,sheer greyish blue hold up stockings and cute denim wedge strappy sandals.

My toes are painted a sexy red colour.

So I've popped in to show them my talented toes but I've never watched the show and don't realise that there may be a forfeit if the audience decide my skill isn't very talented.

To make things a bit more exciting I've told them I can do with my hands and feet handcuffed.

So I start off my removing my sandals and stockings to reveal my pretty bare feet and I put my feet up on a stoll to expose the soles of my feet.

I then handcuff my feet together and finally my hands.

I start to try and click my toes but they won't do it!

However I can do it and after persisting they really do click and everyone is amazed I can do so there's no forfeit for me...or so I think!

I thought I just had to do it but the audience have to vote for 'talented' or 'forfeit'.

I'm shocked to hear people shouting 'forfeit' and as I've said nothing must mess up my hair I'm really stunned to suddenly receive a massive pie sandwich!

I can't believe it and I'm pretty annoyed but I realise the Tiswas custard pies are actually shaving foam!

I have a go saying I thought your custard pies would at least be real custard and I get real custard pie right in the face!

I'm repeatedly pied and I'm left covered with my hair ruined.

After taking the cuffs off,with my model shoot ruined I decide my bare feet and toes should be the ones to get pied and I cover my feet with creamy custard pies.

Everyone laughs at me as they casually move on to the next part of the show!

I loved making this film!

I hope you love watching it as much as I loved making it!
Free video trailer:
Includes the following file:
talented-toes-handcuffs-and-pies.mp4

1280x720

4,576 Kbps

426.58 MB

13.0 minutes
More scenes
Tell others about this scene:
* Promo refers only to
1 and Only Messy Jessie UMD Store
's download scenes. The lowest-priced item(s) in your cart from this producer will be made free once you have the required number of items in your cart.