| | |
| --- | --- |
| Ready, Steady, Splosh! Extreme Cake Sitting | |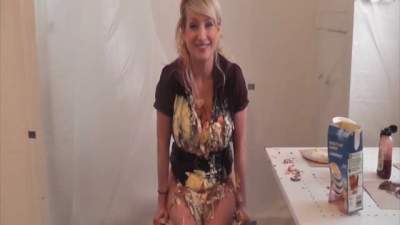 Starring the following model:
| | |
| --- | --- |
| File count: | 1 |
| Total size: | 146.89 MB |
| Total runtime: | 12 mins, 53 secs |
| Date added: | 7/06/17 |
| Views: | 1057 |

$19.99

Flag it
This is an episode of Ready, Steady, Splosh! I am wearing a dark purple, short sleeved blouse and short black skirt.

I have been given two shopping bags filled with mystery items! I have no clue what is in the bags, so it's a complete surprise! Inside the first bag is plain yoghurt, a raspberry pavlova, a strawberry gateaux, and a black forest gateaux.

The second bag contains strawberry, toffee and chocolate sauce, custard, a strawberry cheesecake and a lemon tart! So lot's of cakes to play with!

Fisrt I go for the raspberry pavlova. I am not quite sure what to do with it, so I sit on it! It's cold and creamy and I wriggle about in it for a bit.

I turn around to see the mess, but as it's not as messy as I thought it would be, I pour some chocolate sauce and custard onto my bum!

Next I get the lemon tart and place it on my chest, I smoosh it in making it crumble. After rubbing it in I add some strawberry sauce. I get the black forest gateaux next and once again, I decide to sit on it. But before I do, I take off my skirt for a better effect.

I quickly get the chocolate gateaux and sit on that, giggling as I do! It feel so cold and creamy!

I add some plain yoghurt for extra mess and then sit on the strawberry gateaux!

With the strawberry cheesecake, I decide to put it down the front of my knickers! What else could I do?!

I finish off by squirting the remaining toffee and chocolate sauce all over followed by the custard! It was fun to get mystery bags of mess! I wonder what will be in the next lot!
Includes the following file:
ready-steady-splosh-cake-sitting.mp4

640x480

1,593 Kbps

146.89 MB

12.9 minutes
More scenes
Tell others about this scene: