| | |
| --- | --- |
| Strip or Slime with Kelsey (Topless Scene) | |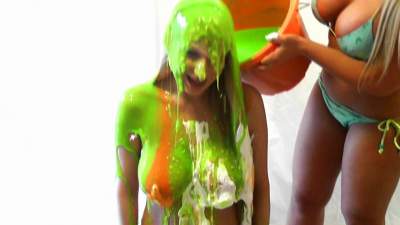 Starring these models:
| | |
| --- | --- |
| File count: | 1 |
| Total size: | 167.9 MB |
| Total runtime: | 5 mins, 41 secs |
| Date added: | 6/30/17 |
| Views: | 1733 |
| Scene ID: | 23300 |

$19.99 55% off!

$9.00




Report
This is the second installment of 'Strip or Slime'! This time I am playing it with Kelsey. As always, we have to strip down to our underwear or bikini as quickly as possible. The loser has to get gunged by the victor.

I have already played this once and lost, so I am determined to win at least one round!

I am wearing a grey jumper, grey yoga pants and a black vest top. Kesley is wearing a red top, brown cardi and blue denim skirt. On the count of three, we strip!

Unfortunately, I fail to win and Kelsey is delighted to have won as now she can gunge me.

Before I know it, Kelsey has a jug full of bright green porridge and giggles as she pours it over my head, covering my hair, face and body. I take off my bra as those are the rules and I don't want to be accused of cheating!

As soon as my bra is off, Kelsey has 2 foam pies in her hand and places them directly on my boobs! While the paper plates are still stuck to me, Kelsey pours a bucket of orange slime over my head followed by a bucket of green gunge!

Kelsey then pies my in the face and then on top of my head. Then she pours a jug of orange slime slowly over my head.

At this point, the weight of all the gunge is causing my knickers to fall down a bit. Kesley thinks this is a great opportunity for her to try and gunge me so much that they do!

She pours some slime into my knickers, followed by a jug of slime, followed by a bucket of orange slime! How cheeky!

Kelsey finishes me off with lots more slime over my head and all down my body. I need some practice at this game!
More scenes
Tell others about this scene:
* Promo refers only to
1 and Only Messy Jessie UMD Store
's download scenes. The lowest-priced item(s) in your cart from this producer will be made free once you have the required number of items in your cart.