| | |
| --- | --- |
| The Card Game Part 1 with Ami (Topless) | |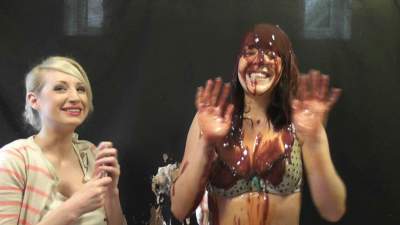 Starring these models:
| | |
| --- | --- |
| File count: | 1 |
| Total size: | 202.82 MB |
| Total runtime: | 6 mins, 50 secs |
| Date added: | 6/29/17 |
| Views: | 1107 |
| Scene ID: | 23294 |

$19.99 55% off!

$9.00




Report
This is the first time playing the card game. I am playing it with the gorgeous Ami who is wearing a light coloured top, pale pink cardi and blue denim jeams.

The premise of the game is to pick 10 cards from a playing deck. Red cards mean you have to take off an item of clothing. Black cards mean you get gunged and if you pick a joker, you get both!

Once Ami has selected her 10 cards, I pick them up and take a look to see what she has coming. The first card is a red, so Ami removes her cardi but gets to stay clean.

The second card is another red, so again Ami escapes a gunging but has to take off her jeans.

The third card is the joker! So whilst Ami takes off her top, I start throwing some orange gunge at her and then pouring it over her head. But there's more gunge to come as the next card is a black! So I get some gunge that was meant to be purple but looks more like chocolate and tip it over Ami's head! I also use some green gunge because you can never have too much!

Ami's next card is a red, so she takes off her bra, She is starting to get worried about running out of clothes!

Luckily, the following card is a black, so I pour more orange gunge over head and down her back.

With only her thong left on, but plenty of gunge, I let her pick just two of the remaining four cards (I am kind!). Ami chooses a red and a black, so while she takes off her thong, I pour more of the dark slime over her and then some more orange slime over head.

I really enjoyed this game and I 'm looking forward to my turn!
More scenes
Tell others about this scene:
* Promo refers only to
1 and Only Messy Jessie UMD Store
's download scenes. The lowest-priced item(s) in your cart from this producer will be made free once you have the required number of items in your cart.