| | |
| --- | --- |
| Vintage Betty Pies Jessie the Waitress (Topless) | |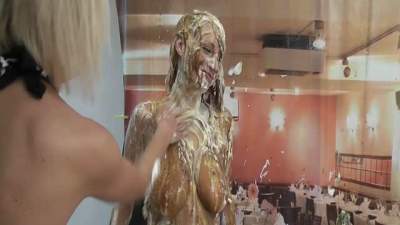 Starring the following model:
| | |
| --- | --- |
| File count: | 1 |
| Total size: | 135.94 MB |
| Total runtime: | 9 mins, 11 secs |
| Date added: | 10/06/17 |
| Views: | 1247 |
| Scene ID: | 24758 |

$19.99 55% off!

$9.00




Report
We are at the restaurant where I am a rude and unhelpful waitress. Betty is the unhappy customer who is far from satisfied with my service.

I am wearing a waitress uniform, black top and black skirt with a little white apron. Betty is wearing a leopard print dress.

Betty calls me over and asks for more gravy, she already seems less than pleased with her food. I say I will go get her some more gravy. However, 5 minutes pass and I still haven't returned with the gravy.

Betty calls me over again asking what happened to her gravy. I tell her that I had been out for a cigarette but I would get it now.

As I walk off, Betty grumbles to herself about my bad attitude.

I return with white sauce. Betty reminds me that she asked for gravy and demands I get it. So I walk off to get the gravy.

When I come back with the gravy, she asks me to pour it for her, so I do. I accidentally pour some on to Betty and she goes mad! I struggle not to laugh and Betty asks to see the manager. I say that he's not available.

Betty then spills some gravy on the table, I say I will clean it up and go to get a cloth.

When I come back, I tell Betty that the manager can see her in 2 hours. Betty is obviously not prepared to wait for 2 hours and decides to take matters into her own hands.

Betty demands that I sit on the table. I am confused, but I do as she says.

To my surprise, Betty appears with a pie in her hands and doesn't hold back as she quickly pies my breasts! What she does next is a shock! Betty pies me again and pulls down my top! She continues to pull down my bra too and then pies me with a chocolate pie!

She then gets a custard pie and pies my breasts and head. My uniform is destroyed and I try to take it off. As I do this, Betty pies me with another chocolate pie.

I stand up in just my black thong and black stockings and Betty takes this opportunity to pie my bottom! Then she goes back to pieing my breasts and head before planting another chocolate pie in my face!

To make things worse, Betty then picks up the jug of gravy and pours it all over me as I sit there on the table covered in pie. I don't think Betty will be a returning customer!
More scenes
Tell others about this scene:
* Promo refers only to
1 and Only Messy Jessie UMD Store
's download scenes. The lowest-priced item(s) in your cart from this producer will be made free once you have the required number of items in your cart.