| | |
| --- | --- |
| Vintage Blue Adidas Swimsuit 4 Yucky Fishy Shampoo | |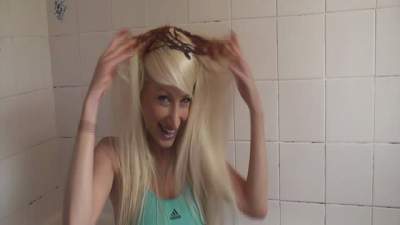 Starring the following model:
| | |
| --- | --- |
| File count: | 1 |
| Total size: | 217.91 MB |
| Total runtime: | 18 mins, 52 secs |
| Date added: | 8/30/17 |
| Views: | 1346 |
| Scene ID: | 24274 |

$19.99




Report
This film really shows how tough Messy Jessie is when it comes to mess (but not much else!)

I'm in the bath wearing the legendary blue Adidas swimsuit and the list of mess is pretty disgusting.

I have sardines,tuna,fish paste,garlic mayo,branston pickle,beans,old yoghurts,marmite and 6 eggs.

Yuck!

Then for pudding I have some custard and of course a custard pie!

I start off with shampooing marmite into my lovely blonde hair which is soon a sticky mess.

I crack 2 eggs onto my head and rub them in.

I repeat the marmite and then rub actual sardines into my hair followed by tuna and I bunch my hair up and rub it all in!

Fish paste is next and I can't help but laugh at how mad and disgusting this is!

I then empty the jar of freezing cold branston pickle onto my head and it drips down onto my swimsuit.

I then shampoo in more sardines and follow it up with the garlic mayo all over my head,face and chest.

It really squishes in and smells horrible.

Then some cold baked beans go over me.

I then go for the strawberry yoghurt.

I try more eggs,one slides off my head so I crack one in my swimsuit.

The sweet custard then is poured over my head and I massage it into my hair.

Finally I have the big custard foam pie with a crust and push it in my face.

I rub it in all over!

Not sure how many pretty blonde girls would take this sort of WAM punishment but hewre you have it!
Includes the following file:
jessie_blue_swimsuit_digusting_gunging.mp4

640x480

1,614 Kbps

217.91 MB

18.9 minutes
More scenes
Tell others about this scene:
* Promo refers only to
1 and Only Messy Jessie UMD Store
's download scenes. The lowest-priced item(s) in your cart from this producer will be made free once you have the required number of items in your cart.