| | |
| --- | --- |
| Vintage Davina Messy Milkshake and Custard Pies | |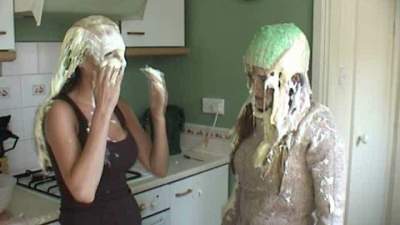 Starring these models:
| | |
| --- | --- |
| File count: | 1 |
| Total size: | 90.98 MB |
| Total runtime: | 12 mins, 49 secs |
| Date added: | 5/21/17 |
| Views: | 1944 |
| Scene ID: | 22798 |

$19.99 61% off!

$7.80




Report
In this hilarious Vintage scene the supermodel sisters (yeah right!) Davina and I are all dressed up in woolies including cute little hats to film a winter scene.

It's just too warm though and we go off to try and find a drink to cool us down.

The kitchen is full of custard pies including a massive one plus a couple of bowls of lumpy slime.

Our attempts to make milkshakes with Neopolitan ice cream,milk and even pie foam end in disaster as we forgot to put the lid on the blender!

Having both made a mess on ourselves and the floor we get into an argument.

Davina says 'I don't know' so I have to pour lumpy green slime over her hat and head.

She flicks green slime into my face so I lose patience and smash a custard pie into her pretty face!

Davina grabs some pink slime and pours it over me.

We then get into a tit for tat pie fight.

The pies are really flying geting thrown and smushed!

Davina then pies my pert bottom and makes a brilliant throw right into my face!

It's an amazing shot!

I get Davina back with a pie to the bum but by now we are both struggling to stand up in the mess.

Davina's bare feet have no traction and my feet are in socks and aren't doing much better.

We can't stop laughing as we slip and slide about.

I stop Davina from laughing though by pouring the freezing contents of the blender over her head and it shocks her by going down her back!

She really screams and squeals!

I get my jumper off so we can clean up but I can't resist forcing Davina's head down into the massive pie and rub her face into it.

It's so big Davina takes it and throws it full on into my face!

Davina falls over in the mess and I try to help her up before someone comes but I slip and we end up on the floor in the mess and can't help laughing nor get up!
Includes the following file:
messy-milkshake_messy-milkshake.mp4

640x480

1,107 Kbps

101.51 MB

12.8 minutes
Tell others about this scene:
* Promo refers only to
1 and Only Messy Jessie UMD Store
's download scenes. The lowest-priced item(s) in your cart from this producer will be made free once you have the required number of items in your cart.