| | |
| --- | --- |
| Vintage Jessie Makes a Huge Pie with Davina | |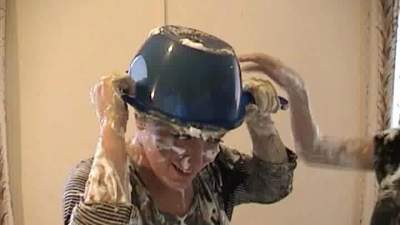 Starring these models:
| | |
| --- | --- |
| File count: | 1 |
| Total size: | 93.66 MB |
| Total runtime: | 12 mins, 21 secs |
| Date added: | 9/19/17 |
| Views: | 882 |
| Scene ID: | 24546 |

$19.99 55% off!

$9.00




Report
I am attempting to make the biggest pie I have ever made with the help of Davina.

I am wearing a black top and black leggings and Davina is wearing a black and white patterned dress.

I am laying out digestive biscuits to make the base of the pie. However, Davina, rather than helping me, is just sat eating the biscuits!

I tell Davina to be sensible but she continues to be silly, throwing the biscuits and eating them. I clearly show my annoyance, but she just laughs.

I have made a large circle with the biscuits and need to pour on the custard. Davina and I have a bowl each. I want to pour it on slowly and carefully, making sure it's all even. However, Davina wiggles her bowl of custard about, threatening to spill it everywhere. I manage to start poring the custard on the biscuit base and Davina joins in. We spread the custard with our hands and once again Davina finds this funny and slaps her hand in the custard, making silly noises.

I start to really lose patience and throw some water at Davina. SO she flicks some custard at me!

We both start flicking custard at each other before I start to add the shaving foam topping to the pie. Whilst I apply the foam, Davina puts some foam on top of my head. Without me knowing! But when she squirts more foam on my head, I get annoyed and get her with foam too.

I continue to try making the big pie, but Davina squirts me with even more foam and then ruins my pie topper… A strange blue substance! I finally feel that my pie is complete only for Davina to push me in it!

I roll around in the huge pie, trying to get back at Davina with no luck. She pours water on me as she laughs. I scoop up the mess that is now the pie and try to get Davina with it. We both end up on the floor, covered in mess, laughing.