| | |
| --- | --- |
| Vintage Kelsey Is Cuffed and Pied (Topless) | |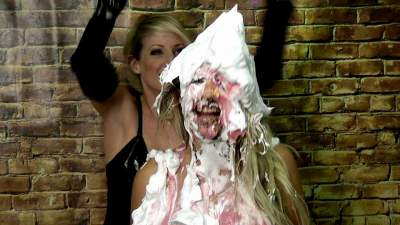 Starring these models:
| | |
| --- | --- |
| File count: | 1 |
| Total size: | 161.82 MB |
| Total runtime: | 5 mins, 22 secs |
| Date added: | 10/06/17 |
| Views: | 1272 |
| Scene ID: | 24756 |

$19.99 55% off!

$9.00




Report
In this scene, I am wearing a black PVC body suit with black PVC gloves and Kelsey is wearing a bright pink bikini.

Kelsey is sat on a chair and handcuffed! I am getting revenge for when she tied me up and pied me.

I start with a very big, foamy custard pie and squash on top of her head, ruining her lovely long blonde hair.

I then pick up a chocolate pie with lots of foam and hold it in front of Kelsey, she begs me to stop but I go ahead and push the pie into her face!

I decide to take this punishment to the next level and remove Kelsey's bikini top! She calls me a pervert, but I don't care! I just pick up a big pink pie topped with lots of foam and pie her bare breasts with it! I also rub it in a bit for good measure!

I the get another big pink pie and put it in Kelsey's face, she laughs and by now is almost totally covered in pie! She flings a bit of pie onto me so I give her a pie sandwich with 2 huge foamy pies!

I pick up 2 custard pies and stand behind Kelsey so I can pie her boobs. She gets some on me so I pie her in the face with a chocolate pie! The final pie is a pink pie to the top of her head. Kelsey is now totally covered in pie and looks great! I say I am not going to untie her so she flings lots pie at me, getting me messy. I am shocked and say I am leaving so she throws more pie at me getting me messier and messier!

I don't think Kelsey has learnt her lesson at all… I may have to do it all over again!
More scenes
Tell others about this scene:
* Promo refers only to
1 and Only Messy Jessie UMD Store
's download scenes. The lowest-priced item(s) in your cart from this producer will be made free once you have the required number of items in your cart.