| | |
| --- | --- |
| Vintage Louise Tied and Pied by Jessie | |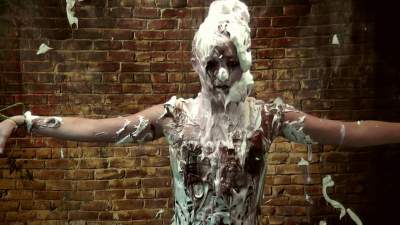 Starring the following model:
| | |
| --- | --- |
| File count: | 1 |
| Total size: | 142.51 MB |
| Total runtime: | 4 mins, 45 secs |
| Date added: | 10/06/17 |
| Views: | 760 |
| Scene ID: | 24759 |

$19.99 55% off!

$9.00




Report
This scene starts with Louise tied up in the dungeon. I am punishing her for stealing my dominatrix outfit. Louise is wearing my black PVC corset and black PVC skirt. I am left wearing a leopard print dress, so I am very unhappy about this.

Louise begs me to let her go, but that is not about to happen and I demonstate this by pieing her in the face with a chocolate pie! I then pie her head, ruining her hair. Louise is very upset about this but I am not deterred. I give Louise a custard pie to the breasts and then throw a custard pie at her. My aim needs improvement so I throw another pink pie at her face. I pie her bottom before pieing her in the face again. It's a strawberry whip filled pie and Louise says how nice it tastes. I get a chocolate pie and pie her in the face. But she really likes this and starts to enjoy herself too much. I am really not happy about this so I pie her in the face again.

I then give Louise a pie sandwich followed by 2 chocolate pies to the breasts. I say that the final pie is a nice pink one and I pie her in the face. But just as I am about to leave, Louise tries to get me some pie so I must get her back. I get a custard pie and pie her in the face as she continues trying to get me. Luckily, I manage to get a way and leave Louise tied up and covered in pie!
More scenes
Tell others about this scene:
* Promo refers only to
1 and Only Messy Jessie UMD Store
's download scenes. The lowest-priced item(s) in your cart from this producer will be made free once you have the required number of items in your cart.