| | |
| --- | --- |
| Vintage Office Mess with Jessie and Davina | |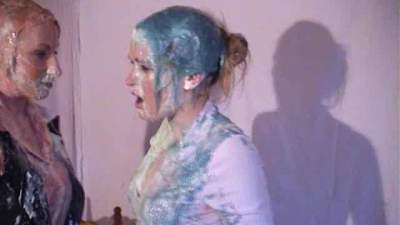 Starring these models:
| | |
| --- | --- |
| File count: | 1 |
| Total size: | 37.85 MB |
| Total runtime: | 5 mins, 20 secs |
| Date added: | 9/05/17 |
| Views: | 1292 |
| Scene ID: | 24344 |

$19.99




Report
Davina and I are at work in the office. I am wearing a a black skirt and jacket, white shirt, black fish nets and red heels. Davina is wearing a more simple white shirt and black skirt outfit.

It's lunch time and we are eating bowls of yoghurt with fruit. Davina clumsily knocks into me, almost spilling her food onto my jacket. I tell her to be careful as my suit is btand new and very expensive!

Davina is curious about the suit and asks how much it cost. I say I couldn't possibly say, but then say I blew a months wages on it. Saying it's pure silk from a posh boutique.

Davina is clearly annoyed at my bragging and 'accidentily' trips, getting her yoghurt all over my jacket! I say that she did it on purpose and she says sorry, laughing. I am not at all happy so I flick some of my yoghurt at her.

Davina tells me that I need to be put in my place and pushes me down onto a pie that is sitting on my chair.

I exclaim that she has totally ruined my new suit. But to stop me from moaning, she quickly puts a pink pie into my face!

I fling more mess at her but she is fast to pie me in the face again with a green pie.

I stand up and pour a bowl of green 'soup' over Davina's head and then pie her in the face!

Davina then grabs a bowl of pink stuff and pours it over my head, followed by a pie in my face.

I pie Davina back but I notice that my shoes are messed up. I point out that she has ruined my shoes, so she grabs one and pies it! I grab a bowl of blue goo and throw it at her white shirt and then over her head.

I pie Davina again and then take off my jacket. We both have a pink pie in our hands and we simultaneously pie each other in the face! We start laughing and continue to pie each other.

Davina gets me in the face, but I miss, so I throw it again and this time I ger her in the face too!

We start to wrestle each other nd end up on the floor, rolling around in all the mess.

When we try to get up, Davina hilarioulsy keeps slipping! after a few attempts, she manages to get up, only to slip and fall down again! We both laugh, totally covered and totally in trouble!
More scenes
Tell others about this scene:
* Promo refers only to
1 and Only Messy Jessie UMD Store
's download scenes. The lowest-priced item(s) in your cart from this producer will be made free once you have the required number of items in your cart.