| | |
| --- | --- |
| Vintage Pie Academy with Ami (Topless) | |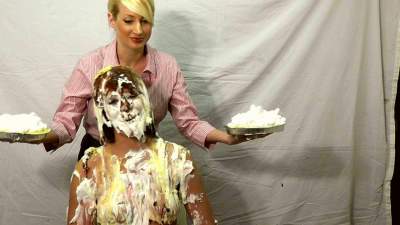 Starring these models:
| | |
| --- | --- |
| File count: | 1 |
| Total size: | 125.08 MB |
| Total runtime: | 4 mins, 9 secs |
| Date added: | 10/05/17 |
| Views: | 921 |
| Scene ID: | 24745 |

$19.99 55% off!

$9.00




Report
This is a hilarious scene with the stunning Ami. We're back at the Pie Academy and Ami is today's student.

I am wearing a smart skirt with a pink and white striped shirt and Ami is wearing a black bikini.

Ami was given a song to learn, you may have heard it before, '10 Whipped Pies'. It is sung to the tune of 10 Green Bottles.

Ami must sing the song for me and it just so happens that I have 10 whipped pies, I like to use props!

As Ami sings the song, with every pie that falls, Ami gets a pie! It's a struggle not to laugh!

The first pie I give to Ami is a custard pie to the top of her head followed by another custard pie to her face!

Next up is pink pie on her head. Ami can't stop giggling so I get her to take her bikini top off as punishment!

The next pie is a chocolate one to the face. At this point we are both in fits of laughter but Ami continues with the song and I continue with a strawberry pie to her breasts.

The next couple of pies are custard pies on top of Ami's head followed by a chocolate pie to the face.

I hold back on the penultimate pie, saving it for the ending! With the last two pies, I place one on her breasts and the other on her head!

I point out that I didn't exactly escape clean as some pie has landed on me. Ami quickly flings a load of pie from her lap onto me! I am shocked but we both laugh as this has been a lot of fun for both of us.
More scenes
Tell others about this scene:
* Promo refers only to
1 and Only Messy Jessie UMD Store
's download scenes. The lowest-priced item(s) in your cart from this producer will be made free once you have the required number of items in your cart.