| | |
| --- | --- |
| Vintage Pie Academy with Roxy Part 2 | |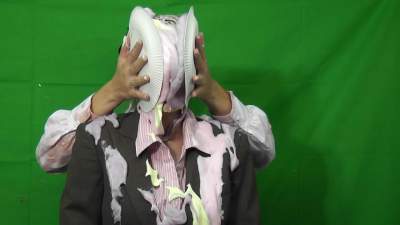 Starring these models:
| | |
| --- | --- |
| File count: | 1 |
| Total size: | 192.74 MB |
| Total runtime: | 6 mins, 25 secs |
| Date added: | 9/19/17 |
| Views: | 915 |
| Scene ID: | 24547 |

$19.99 55% off!

$9.00




Report
This is a Pie Academy scene with Roxy. In a previous episode, I demonstrated on Roxy the different ways of pieing and now she needs to show me what she has learnt.

I will be grading each pie she gives me, so she needs to try her best!

I am wearing my Hugo Boss skirt suit with a pink and white striped shirt. Roxy is wearing a black skirt, white shirt and black tie. Roxy is already a bit messy from her pie lesson!

I sit ready to be pied! Roxy starts with a pale pink foam pie on top of my head. I am not overly impressed and give her a D.

She follows this with another pie on top of my head, this time she tries harder, earning her a B+!

Next, Roxy gives me apie in the face with a yellow foam pie! It's not too bad, but not perfect so I giver a C.

Roxy then starts to impress me with a pie sandwich with purple foam pies, for which she gets a B+. I am even more impressed when she follows this by throwing a pie! The pale pink foam pie lands on my face, so I am quite pleased.

Roxy goes on to give me another pie sandwich and throws another pie perfectly, earning her an A! However, Roxy didn't give me a pied bottom, so I have no choice bit to fail her. However, I give her a chance to redeem herself and she does pie me on the bottom.

But this is not enough because there is something else Roxy has forgotten to do… Instead of telling Roxy, I show her what she forgot by grabbing two pies and pieing her boobs! It was a good effort, but sadly Roxy failed her pie exam!
More scenes
Tell others about this scene:
* Promo refers only to
1 and Only Messy Jessie UMD Store
's download scenes. The lowest-priced item(s) in your cart from this producer will be made free once you have the required number of items in your cart.