| | |
| --- | --- |
| Vintage Pie Academy with Roxy Part 1 | |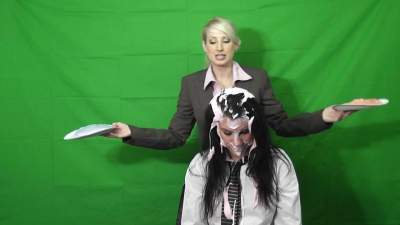 Starring these models:
| | |
| --- | --- |
| File count: | 1 |
| Total size: | 88.61 MB |
| Total runtime: | 2 mins, 57 secs |
| Date added: | 9/28/17 |
| Views: | 749 |
| Scene ID: | 24669 |

$19.99 55% off!

$9.00




Report
This is part one of Roxy's pie lesson with me. I demonstrate the basic techniques of pieing. Roxy is wearing a white shirt, black skirt and a black and white striped tie. I am in my Hugo Boss suit with a pink and white striped shirt.

I show Roxy several different ways of delivering a pie and she needs to pay close attention as she will be tested after and graded!

I start with the classic pie in the face! I get a pale pink foam pie on a paper plate and push it into her face! I rub it around just a little to make sure her face is covered.

Next is a pie sandwich with a light blue pie and an orange pie to either side of Roxy's head followed by another foam pie on top of her head!

We then get to some other techniques, such as pied boobs! I get two foam pies and place them on each of Roxy's breasts. Of course, this can only be followed with a pied bum! So I ask Roxy to stand up and turn around so I can squish a pie onto her bottom!

To finish, I demonstrate a slightly tricky technique… Pie throwing! I stand a little distance from Roxy and throw a foam pie straight at her face. It's quite a good shot and I must throw another just to show it's not as easy as it looks. I throw a second foam pie and once again it lands perfectly in her face! My demonstration is complete and I hope Roxy has taken in all I have shown her as in the next installment of Pie Academy, she must take her test and pie me!