| | |
| --- | --- |
| Vintage Question Time for Ami | |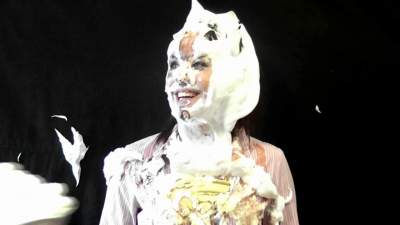 Starring these models:
| | |
| --- | --- |
| File count: | 1 |
| Total size: | 279.68 MB |
| Total runtime: | 9 mins, 25 secs |
| Date added: | 10/05/17 |
| Views: | 650 |
| Scene ID: | 24743 |

$19.99 55% off!

$9.00




Report
In this scene with the beautiful Ami, I have a series of questions on the subject of recent music. Ami chose the subject herself, so she should get most of them right… For every incorrect answer, Ami will get a pie in the face. If it was me up against these 9 questions, I would be totally covered in pie by the end! I am wearing a short sleeved dark purple blouse and black trousers and Ami is also dressed smartly in a pink and white shirt with dark trousers.

I proceed with the questions hoping that Ami's musical knowledge isn't that great, but as a dance teacher, she probably knows all the latest tunes!

All 9 questions are songs from 2009. I name the title of a track and Ami has to guess who the artist is.

Amazingly, Ami gets the first question correct and avoids getting a pie. However, she is not so lucky with the second question and ends up with a big foamy, chocolatey pie in the face. I slowly smoosh it around making sure to get plenty of coverage! The third question proves too tricky for Ami as well so I get to pie her n the face again with a strawberry filled foam pie!

Luckily, Ami actually gets the 4th question correct, but I make for it when she answers the 5th question incorrectly even with a clue! So I get two pies and give Ami a nice big pie sandwich!

The 6th question leaves Ami stumped for an answer and this time I decide to pie her boobs for a bit of a change. Question 7 is an easy for one Ami and she answers correctly escaping a pie, but she can't answer question 8 so she gets a chocolate pie on top of her head.

The final question is also one Ami can't answer so with the final pie, I take a step back and throw the pie at Ami's face and it lands perfectly! Ami is now covered in pie and her smart clothes are ruined but she was a great sport and we both enjoyed it!
More scenes
Tell others about this scene:
* Promo refers only to
1 and Only Messy Jessie UMD Store
's download scenes. The lowest-priced item(s) in your cart from this producer will be made free once you have the required number of items in your cart.