| | |
| --- | --- |
| Vintage Restaurant Food Fight with Davina | |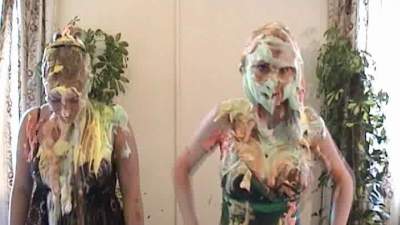 Starring these models:
| | |
| --- | --- |
| File count: | 1 |
| Total size: | 56.82 MB |
| Total runtime: | 7 mins, 36 secs |
| Date added: | 9/28/17 |
| Views: | 980 |
| Scene ID: | 24673 |

$19.99 55% off!

$9.00




Report
In this vintage scene, Davina and I are heading to a club but first we are having dinner at a restaurant.

I am wearing a green dress with a sequin trim across the cleavage. Davina is wearing a long gypsy style dress.

I comment on Davina's choice of casual dress. It doesn't seem right for going out. But Davina assures me that this is what she is going to wear. We sit down at our table and I have already ordered for us. Our starter is on the table, 2 large bowls of soup. Davina asks if I'm going to eat it all as there is a lot there. I say that I am and ask why. Davina says that I've put weight on recently. I rub my belly (actually about 7 months pregnant at the time this was filmed!) and say that I hadn't noticed. However, I am upset by her remark. So I point to a picture and tell Davina to look at how beautiful it is. Whist she is admiring the picture, I pour loads of salt into her soup! As we tuck in to our soup, Davina has a spoonful and immediately starts to cough and splutter saying that her soup is very salty. She gags and decides to skip the soup.

Our main course arrives, 2 plates piled with a foamy looking substance! Davina tries to make me try hers but I tell her that I don't like tomato, but she still puts some onto my plate despite my protests.

Davina continues to try putting her food onto my plate. I get very annoyed and pour a load of salt onto her food. Davina is quick to retaliate and does exactly the same to my food!

Davina then starts to clumsily wave her fork around, I tell her to be careful but I'm too late as some of her food splats onto my dress. Upset and annoyed, I pick up her bowl of soup and pour it down her dress! Of course, Davina doesn't stand for that. She picks up my bowl of soup and pours it all down my dress!

I quickly grab some water and throw it over Davina, so she pies me in the face!

I then pie Davina in the face, followed by giving her a pie sandwich. So Davina pies me twice!

We get up from the table and I grab a bowl of green slime. I pour it over Davina's head. Davina' grabs a large bowl of chocolate and tips it over my head then pies me in the face!

I beg Davina to stop and call a truce. But she just pies me in the face again!

I scoop up some remains and smear them on Davina before we give in and decide to clean up.
More scenes
Tell others about this scene:
* Promo refers only to
1 and Only Messy Jessie UMD Store
's download scenes. The lowest-priced item(s) in your cart from this producer will be made free once you have the required number of items in your cart.