| | |
| --- | --- |
| Vintage Schoolgirl Leavers Foodfight | |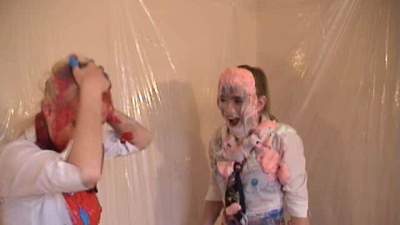 Starring these models:
| | |
| --- | --- |
| File count: | 1 |
| Total size: | 59.51 MB |
| Total runtime: | 8 mins, 26 secs |
| Date added: | 5/11/17 |
| Views: | 1383 |
| Scene ID: | 22654 |

$19.99




Report
The two naughty bitchy schoolgirls Jessie and Davina are excited that they are finally leaving school and already they have started to wreck their uniforms and have got their school pals to write on their shirts.

Davina writes 'Jessie smells' on my shirt.

I go to write something bitchy but see that Johnny had professed his love for me on Davina's shirt which really annoys her.

We really are bitchy cows to each other in this one!

Davina actually writes 'Jessie is Gay' on my shirt but there's nothing wrong with that is there?

I should know -wink wink!

So the bit you've been waiting for starts.

We get each other with water to start with.

Then Davina gets me with some pink lumpy gunge (remember when I couldn't make it properly!)

I get her back with a cracking pie in the face and then a pie on the bum!

Davina squirts red paint onto me and ruins my school shirt.

I hit her hard with a couple of good pies in the face!

She tries to get me with some rubbish blue paint.

I hit her with yet another pie in the face!

Davina has found the pies!

I get an aggressive pie sandwich!

Davina then follows this up with another pie sandwich and actually pushes me over as I lose balance a bit.

There is a lot of giggling and typical schoolgirl insults that make this a really funny one.

We end up struggling on the floor in all the mess!

What naughty messy schoolgirls we were!
More scenes
Tell others about this scene:
* Promo refers only to
1 and Only Messy Jessie UMD Store
's download scenes. The lowest-priced item(s) in your cart from this producer will be made free once you have the required number of items in your cart.