| | |
| --- | --- |
| Vintage Secret Ingredient with Davina | |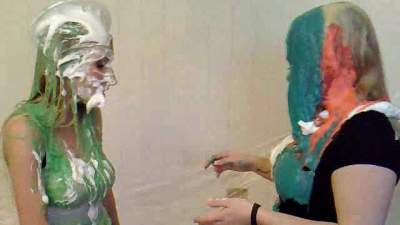 Starring these models:
| | |
| --- | --- |
| File count: | 1 |
| Total size: | 107.53 MB |
| Total runtime: | 7 mins, 32 secs |
| Date added: | 9/14/17 |
| Views: | 927 |
| Scene ID: | 24493 |

$19.99 61% off!

$7.80




Report
I am in a white vest top and light blue jeans, Davina is wearing a black top and dark denim jeans.

Davina has tied me up and I am surrounded with pies and various bowls of things. Davina is trying to get me to tell her the family secret ingredient for the batter recipe. However, I say that I don't know. I tell Davina that she can pie me but I can't tell her the secret as I simply don't know what it is!

Davina holds a white foam pie in front of my face but I am saying nothing so she pies me in the face. I start to grasp at straws, trying to think of something to say but Davina pushes my face into a bowl of green slime! I say that I am trying to remember what it is and tell Davina that the secret ingredient is custard. Davina isn't at all convinced so she pours the bowl of green slime over my head.

Davina tries to explain that we could make a fortune if I told her what the secret is, but I am reluctant to confess. Davina pies me in the face again but I am adamant that I don't know!

Davina pies me in the face several times as she gets more frustrated.

I manage to free myself and stand up to start shouting at Davina saying that she's a disgrace to the family. I get a bowl of custard and pour it over her head then giver a colourful pie sandwich and a white pie in the face!

Davina then pies me before I pour green slime over her. Followed by more pies back and forth between the two of us.

I say I remember something and say that the secret is syrup, which I pur over Davina's head. Davina still doesn't believe me so she gives me a pie sandwich. So I pie her in the face.

Davina gets a bowl of slops and pours it over my head. So I pie her in the face again.

I throw some slops at Davina and tell her she needs to clean up, but I try to walk away as we are both totally trashed!
More scenes
Tell others about this scene:
* Promo refers only to
1 and Only Messy Jessie UMD Store
's download scenes. The lowest-priced item(s) in your cart from this producer will be made free once you have the required number of items in your cart.