| | |
| --- | --- |
| Vintage Sliming in the Sun with Davina | |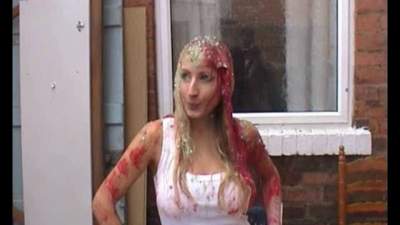 Starring these models:
| | |
| --- | --- |
| File count: | 1 |
| Total size: | 30.19 MB |
| Total runtime: | 5 mins, 20 secs |
| Date added: | 9/14/17 |
| Views: | 967 |
| Scene ID: | 24490 |

$19.99 61% off!

$7.80




Report
Davina and myself are sat in the back garden enjoying the nice weather. Davina is wearing a turquoise halter neck top with a white skirt and I am in a white vest top and pale blue short skirt.

I am relaxing and Davina is looking through a cook-book to decide what to have for dinner. Davina asks me what I would like to eat. She suggests chicken casserole but I snub the idea. Davina then suggests cauliflower cheese, once again, I say no. Davina is not happy with my lack of positive response and says that maybe I should cook dinner for once.

I ask Davina to pass my book. She tuts, but gets up and throws the book at me. I just laugh and tell her to be careful.

I then ask Davina to get my water for me. She begrudgingly gets my water. A few seconds later I ask Davina to get the sun lotion. Clearly annoyed, Davina gets up and goes to get the lotion… Or so I think!

The next thing you see is Davina at an upstairs window, poking her head out and smiling. You then see me sat comfortably until a load of pink goo is poured over my head, splatting everywhere!

I call for Davina but before I can get up, a bowl of green slime falls on to my head!

I manage to get up but I am very angry!

Davina comes back into the garden and innocently asks what happened. I storm off saying that she did it on purpose.

Davina moves the messy chair and sits back down to relax.

Then you see me at the upstairs window with a large bowl of spaghetti hoops! I tip the bowl onto Davina! Davina shouts for me angrily.

I go back outside and Davina walks off only to return with a big bowl of blue goo. She pours it over my head!

I scoop up some mess from the floor and rub it in her face. We throw some mess at each other before calling it a day, our hair and clothes all ruined!