| | |
| --- | --- |
| Vintage The Lost Ring Pie Fight with Davina | |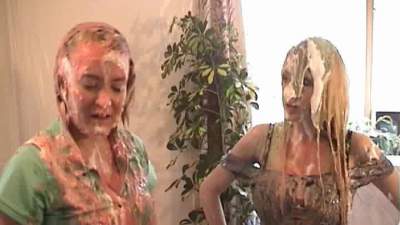 Starring these models:
| | |
| --- | --- |
| File count: | 1 |
| Total size: | 68.22 MB |
| Total runtime: | 9 mins, 5 secs |
| Date added: | 9/22/17 |
| Views: | 1053 |
| Scene ID: | 24575 |

$19.99 55% off!

$9.00




Report
In this vintage sketch, I am wearing black leggings, short denim skirt and a black and white striped top. Davina is also dressed casually in blue denim jeans and light green t-shirt.

I have been very busy making lots of pies for a local fete. However, I quickly realize that my very expensive ring has slipped off my finger and it must be one of the pies!

I ask Davina to help me look through the pies for the missing ring. After a short while, I say that it's useless and that we'll never find the ring. I tell Davina she's not even looking properly which starts a little argument, ending in me pieing her in the face!

Davina immediately pies me in the face too! ! This quickly becomes the new method for finding the ring! We pie each other in the face over and over in search for my missing ring. After going through all the pies with no luck, I have an idea that it might be in the custard. So I pour the bowl of custard over Davina's jeans, top and head. Still no ring!

I also have a bowl of gunge so I must look through that as well. Davina pours the bucket of green lumpy gunge over my head. However, the ring still cannot be found.

There is one bucket of pink goo left so I pour some over Davina, then finish it off over my own head. Then I find another pie and shove it in Dvaina's face! I find one last pie and ask Davina who should get it, she is fast to push it into my face!

We have been through every single pie, custard and gunge but we still can't find the ring! I honestly don't know what happened to that thing!
More scenes
Tell others about this scene:
* Promo refers only to
1 and Only Messy Jessie UMD Store
's download scenes. The lowest-priced item(s) in your cart from this producer will be made free once you have the required number of items in your cart.