| | |
| --- | --- |
| Vintage Ydctotv 3: Restaurant Mess with Davina | |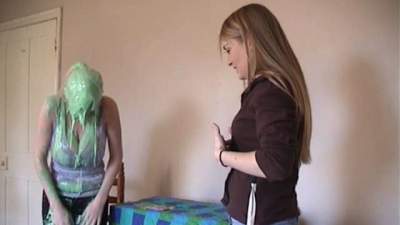 Starring these models:
| | |
| --- | --- |
| File count: | 1 |
| Total size: | 48.24 MB |
| Total runtime: | 4 mins, 40 secs |
| Date added: | 11/24/17 |
| Views: | 550 |
| Scene ID: | 25636 |

$19.99 61% off!

$7.80




Report
I am smartly dressed in lilac satin top and black skirt. I have gone to a restaurant to get something to eat. The waitress's casual attire, jeans and top surprise me. I ask her if they are still serving food. She says she can get me something quickly.

Waitress, Davina asks me what I want to drink, I ask for water. She heads off to get my drink and I look at the menu.

Davina returns with my water but trips and spill it all over me! But I am gracious and tell her it's only water and not to worry.

I seem to not be able to decide what I want, Davina asks me what I want and I say I don't know. Suddenly, green slime is poured over my head! I am shocked and not too happy. Davina hands me a towel and asks me if I know what I want to order. Again, I say I don't know and once again more green slime falls on me! This time I really am unimpressed. However, another lot of slime is poured over me. I tell Davina that my clothes are very expensive and I should get something for free. Davina seems ok with this and asks what I want but more slime covers me!

By now I am totally slimed and I asks for a pie to take away. Davina asks me if I'm sure I want pie, I say yes give me a pie! A custard pie is thrown at me!

I am very angry and tell Davina that I will be going to the council about this and storm out!
More scenes
Tell others about this scene:
* Promo refers only to
1 and Only Messy Jessie UMD Store
's download scenes. The lowest-priced item(s) in your cart from this producer will be made free once you have the required number of items in your cart.