| | |
| --- | --- |
| Cake Mix, Batter, Gunge and Treacle(Topless Scene) | |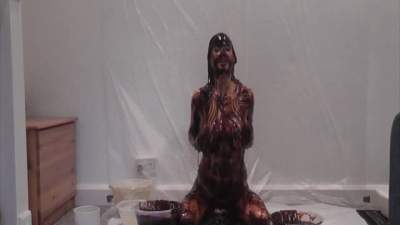 Starring the following model:
| | |
| --- | --- |
| File count: | 1 |
| Total size: | 157.34 MB |
| Total runtime: | 22 mins, 39 secs |
| Date added: | 6/18/17 |
| Reviews: | 1 |
| Views: | 1360 |
| Scene ID: | 23141 |

$19.99




Report
In this 22 minute film, I start off nude and explain why I am making this particular film… It was originally from a 5 part custom film where the last scene failed to record. It was a heartbreaking moment and remaking it was a real labour of love!

So I use the exact messy substances I used in the original film, starting with some very creamy cheesecake filling! It was a real delight! I rub it into my chest and body, taking my time and really enjoying the sensation.

I turn around and get some cake mix, which is very thick indeed! I smear it onto my bottom, then turn around and use the rest of the cake mix on my chest and body. This stiff was amazingly creamy too!

Next up is a bowl of green slime poured straight over my head! It goes all over my body and I am eager to have a go with the next bowl! It is thick purple goo, I turn around and pour it over my head and it flows down my hair, back and bottom. I rub it in then turn around to pour the rest over my head and face.

I spend some time rubbing it in all over and rolling around in the mess on the floor!

Then comes a large bowl of treacle! I absolutely love this stuff and take great pleasure in pouring it over my head and letting in slowly flow down my body.

I have a play in all the mess before scooping it all up and putting some of the floor mess into the now empty bowls. Then with cheer joy, I pour the slops over my head!
Reviews:
"Fantastic."
delete

This could be classed as "Part 5" of the Truth or dare movie. Jessie starts naked and covers herself in raw cheesecake mix, slime and treacle. She squidges around in the slop all over the floor. This is a fantastic movie of a georgeos woman getting messy. When you watch this, you will know Jessie is a true wammer. She loves it!

Report
More scenes
Tell others about this scene:
* Promo refers only to
1 and Only Messy Jessie UMD Store
's download scenes. The lowest-priced item(s) in your cart from this producer will be made free once you have the required number of items in your cart.