| | |
| --- | --- |
| Jess's New Body Warmer (Nude Scene) | |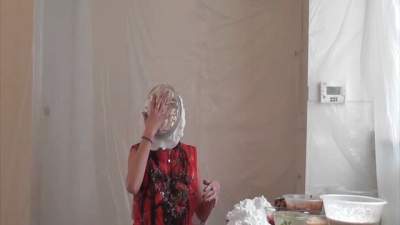 Starring the following model:
| | |
| --- | --- |
| File count: | 1 |
| Total size: | 132.24 MB |
| Total runtime: | 16 mins, 36 secs |
| Date added: | 7/06/17 |
| Views: | 2956 |
| Scene ID: | 23416 |

$19.99




Report
In this scene, I have been bought a brand new red body warmer. The objective is to get it nice and messy! I start off nude, but I put on my new body warmer and sit down.

I have a large array of messy items to use and I start with eggs! I crack 5 eggs onto my head, crushing them into my hair and letting the yolk slide down over my face and body warmer. Cracking eggs is always fun!

A good follow on from eggs is baked beans, so I pour some over my head and body warmer. What is even better is mushy peas! I get a bowl and squish on top of my head!

Next I pour some treacle over my head and body warmer. It slides quite easily over the eggy messy.

I pie myself in the face with a foam pie then tip some spaghetti on my head. I enjoy it so much that I pour a bowl of spaghetti hoops over myself! I am already pretty messy but I go for a bowl of chocolate over my head and face to add to the mess!

Next, I give myself a pie sandwich, but before I wipe away the mess, I grab a bowl. I don't know what it is, but I try to guess what it could be. My guess is that it's custard. I put the bowl down after tipping it over my head and take a look. I was right! It was indeed custard!

I grab another pie and pie my bottom before getting a large bowl of green slime and tipping t over my head. It goes all over my face and body warmer too!

There isn't much left so I scoop up some of the slops from the floor into a bowl and pour that over my head and down my back. I give myself another pie in the face and then a large bowl of lovely porridge over my head and face.