| | |
| --- | --- |
| New! Jessie's Sexy Burlesque Pie Assault + Shower | |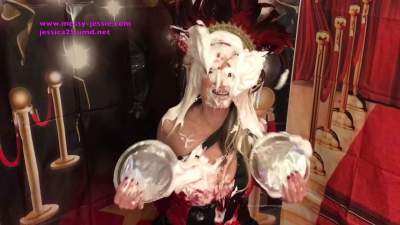 Starring the following model:
| | |
| --- | --- |
| File count: | 1 |
| Total size: | 1.08 GB |
| Total runtime: | 26 mins, 45 secs |
| Date added: | 1/05/18 |
| Views: | 1890 |
| Scene ID: | 26382 |

$29.99 61% off!

$11.70




Report
Wow!

When you have a brilliant customer who actually asks you what custom would you love to film then this is it!

I've always loved the glamour and style of the Las Vegas style showgirls and I love it when Kylie Minogue and Katy Perry et al wear these beautiful costumes.

The big feathered head gear in particular always looks so fabulous.

The rich gold and red colours always look so spectacular so for this film I really get to indulge myself and what I wanted to do.

It was exciting to make and having the red carpet with a Las Vegas background and freedom to pie myself just how I wanted was a dream come true!

This film really covers a lot of very sexy aspects.

I felt confident making this one,I was all dressed up and was able to show off my pretty feet and toes in sexy strappy sandals and sheer Nylons to start with and then I tease as I add very black stockings and a killer pair of heeled sandals.

I then start my routine with a variety of expensive American style creamy custard pies with some other fillings sneaked in there too!

I'm really sensual in the way I pie myself in this film plus some pies are thrown at me as well (someone by Mike who is filming and throwing at the same time).

There are close ups and long shots.

I even get hit with the new Yellow Avalanche spray near the end of my performance!

But the film doesn't end there.

We actually film my clean up on the red carpet followed my lovely hot shower in sexy black underwear!

This film is a brilliant way to launch the 1 and only Messy Jessie store for 2018.

You need to buy this one!
Free video trailer:
Free picture gallery:
More scenes
Tell others about this scene:
* Promo refers only to
1 and Only Messy Jessie UMD Store
's download scenes. The lowest-priced item(s) in your cart from this producer will be made free once you have the required number of items in your cart.