| | |
| --- | --- |
| PVC Bodysuit and Pies (Topless Scene) | |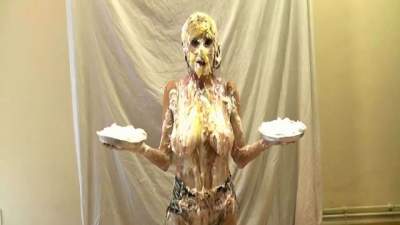 Starring the following model:
| | |
| --- | --- |
| File count: | 1 |
| Total size: | 114.28 MB |
| Total runtime: | 7 mins, 43 secs |
| Date added: | 7/01/17 |
| Views: | 1753 |
| Scene ID: | 23326 |

$19.99 55% off!

$9.00




Report
In this all pie scene, I am wearing a black pvc bodysuit with a thong style back. I get very messy with lots of pies filled with custard, strawberry whip and chocolate, all topped with plenty of foam!

I start with a custard pie to my chest, smearing it in nicely and pushing the foam and custard inside of my pvc outfit. I add another pie to my chest, this time a strawberry one, playing with the foam, squeezing the mess out of my one piece and then pushing it back in. I turn around to pie my bottom with a big chocolate pie. Rubbing it all in and enjoying how it feels. I turn back around to put another chocolate pie on top of my head!

I pie my torso with a custard pie and then scoop up the mess and pour it inside the bodysuit and letting it ooze out the leg holes.

It's time for a pie to the face and what better than with a custard pie! I slowly smoosh it into my face, loving how it feels!

I pie my bottom with a strawberry pie, the take my top down so I can use two pies on my boobs! One is custard and the other is strawberry. I am very messy by now and just love how all the mess feels!

I pie myself in the face with a strawberry pie, plant another chocolate pie on top of my head and then pie my face again with a custard pie! It's fair to say I am covered in pie!

To finish off, I use two chocolate pies on my breasts and rub it all in, it feels great! I pull my top back up and I'm done!
More scenes
Tell others about this scene:
* Promo refers only to
1 and Only Messy Jessie UMD Store
's download scenes. The lowest-priced item(s) in your cart from this producer will be made free once you have the required number of items in your cart.