| | |
| --- | --- |
| Vintage Davina Guess The Mess with Feet | |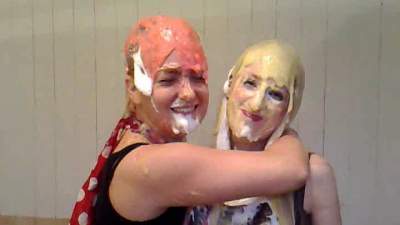 Starring these models:
| | |
| --- | --- |
| File count: | 1 |
| Total size: | 102.29 MB |
| Total runtime: | 12 mins, 32 secs |
| Date added: | 5/17/17 |
| Views: | 1517 |
| Scene ID: | 22736 |

$19.99




Report
Back by popular demand her Davina and Jessie star in a foot fetishist's dream film and those who like pies in the face and messy food over the head do pretty well too!

Davina is dressed iin a black T-shirt and a tartan mini skirt and has had a beautiful pedicure during which her toes were painted bright red.

Davina actually has the same very neat Egyptian style feet that I have.

I'm wearing a mocha coloured vest top and a denim mini skrt with bare unpainted feet.

I blindfold Davina with a red silk scarf with white spots on.

I have a large array of mess for Davina to squish her toes and feet into.

Davina actually hates having her feet touched so was real messy torture for her!

ha!ha!

so the rules were if Davina guesses the mess correctly then she woul;d get to push a custard pie in my face but if she was wrong then the mess she failed to identify would be poured over her head.

I had prepared runny custard,lumpy custard,strawberry Angel Delight pudding,prridge,beans,blackberries from the garden,mashed potato and a few egg yolks in a bowl.

Davina squeals as she squirms as she has to feel all the gooey messes between her pretty toes and on her soles and arches.

She gets a lot wrong and has to endure the sloppy messes over her head.

However she does get some correct so I end up getting pied,in fact I get quite a few more pies in the face than I should have done and even some pink mess but I did sneak a few pies into Davina's face as well.

I'm loving watching these vintage films with Davina and I love the fact you guys are buying them and enjoying them.
More scenes
Tell others about this scene:
* Promo refers only to
1 and Only Messy Jessie UMD Store
's download scenes. The lowest-priced item(s) in your cart from this producer will be made free once you have the required number of items in your cart.